Thailand Discovery: Bangkok, Kanchanaburi, Phitsanulok, Lampang, Chiang Rai, Chiang Mai, and Phuket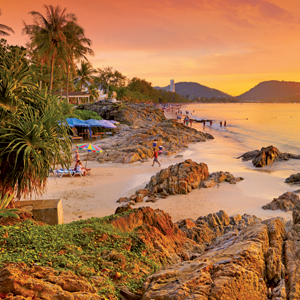 Thailand Discovery
A true discovery of all the best of Thailand. This well-rounded experience sets off in the City of Angels, Bangkok, then journeys through Thailand's historical heartland where the traditions, customs, and temples are most easily accessed. Wind down on the south eastern shore for a tropical beach escape.
Includes:
Private English-Speaking Guide
All Private Ground Transfers & Domestic Air
2 Nights Bangkok
Bangkok City &
...
About Avanti Destinations

The passion to serve and inspire savvy travelers with innovative and personalized vacations has been the driving force for 31 years at Avanti Destinations. We have the passion for independent travel and want to share it with you! We provide you with authentic travel experiences backed by our expert knowledge. You go where you want. When you want. With the flexibility to savor special moments along the way. Your vacation is uniquely yours. That's Avanti!
Our record of success at Avanti
...